We understand that a great shaving experience is essential, and that's why we prioritize both the functionality and aesthetics of our razors. In order to reach a smooth shave, we have designed and implemented the Unique Fitting System and Blade vibration-damping design.
The Unique Fitting System is responsible for:
– High perpendicularity between handle and razor head which permits better precision during the shaving:
– Symmetrical load distribution on the threads preventing excessive wear and increasing resistance.
-Compact and reduced clearance between the parts which provides:
-Less vibration on the blade cutting line;
-Smoother and safer shave;
-Increase in blade tool life.
– Protection of mechanical deformation of the threaded pin on the top cap, even in the eventuality of dropping the razor.
-Alignment of the blade and parts always in the same position, independently if you close the razor one way or another;
The unique fitting system is applied in:
-The outer handle top cylinder
-The inner hole on the plate
-The inner cylinder on the handle
– The outer cylinder on the cap.
Seems confusing? Here is an explained draft where each colour will precisely slide with each other (see the colours).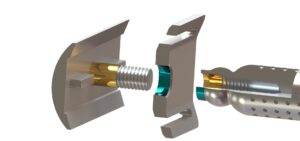 It's not only the Unique Fitting System that is responsible for a 0-blade chatter-free.
We took this issue very seriously, asked users' opinion, and studied and tested it with different prototypes.
We understood then that we needed a rigid blade design to restrain the vibratory motion, such as mechanical oscillations of the blade, and to considerably improve the shaving experience, especially the performance when shaving against the grain.
Blade vibration-damping design
The solution is another of the Tatara secrets.
We conceive a damping design, a wide contact area that supports and clamps the blade between the cap and base plate!  It guarantees contact and forces enough for the blade to not vibrate during the shave, giving it the smoothest shave possible.